Features And Classification Of Basic Refractories
Date:
2016-05-17 17:58
From:
Zhengzhou Sunrise Refractory
Author:
sunrise
Basic refractories are those which are attacked by acid slags but stable to alkaline slags, dusts and fumes at elevated temperatures. Since they do not react with alkaline slags, these refractories are of considerable importance for furnace linings where the environment is alkaline.
The most important basic raw materials are Magnesia (MgO), Dolomite (CaO*MgO) and Chromite.
Magnesia Brick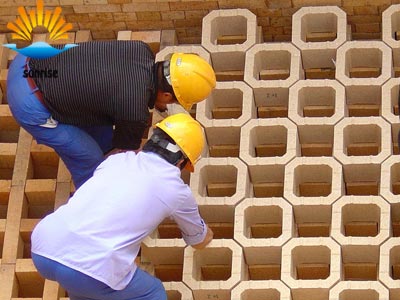 It is a basic refractory with more than 90% MgO and a main crystal phase of periclase. It is characterized by high refractoriness, good alkali resistance and superior refractoriness under load, and it is mainly applied to the regenerators of glass kilns and other high temperature furnaces. It can generally be divided into sintered magnesia brick and chemically bound magnesia brick.
Fused Magnesia Brick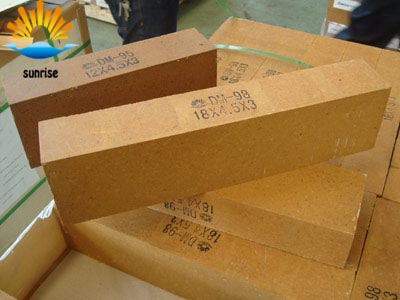 It is made with fused magnesia by a reasonable size distribution, high pressure forming, and high-temperature sintering. It has strong resistance to slag corrosion ability and high temperature dimensional stability. It is mainly applied to the regenerators of glass kilns and other high temperature glass furnaces.
Magnesia Alumina Spinel Brick

It is a kind of basic refractory with periclase as main phase magnesia alumina spinel clinker as basic material. It has such characteristics as good temperature vibration, good strength and volume stability in high temperature. It is widely used in transition zone of cement rotary kilns, glass tank regenerators and lime kilns.
Magnesia Chrome Brick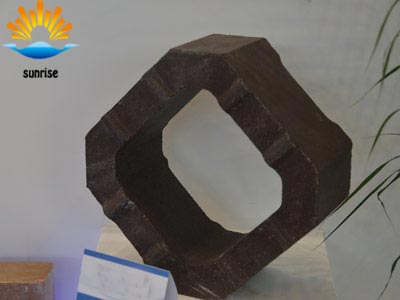 It is made with sintered magnesia and refractory level chrome ore as raw materials. The space between refractory grains is bonded with silicate. The domestic so called magnesia –Chrome bricks. Its refractoriness is more than 2000℃,and the refractoriness under load is above 1550℃.Good steady volume in high temperature , the performance of meeting sudden cold and sudden hot is better than magnesia bricks
Magnesia Carbon Brick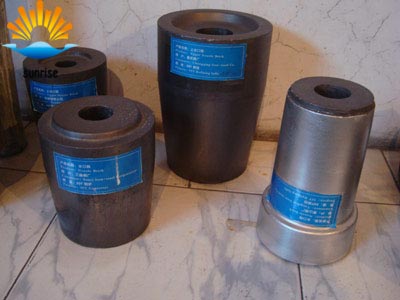 It is resin-bonded brick made from dead-burned or fused magnesia and graphite. Anti-oxidant is added if required. It has good performance in thermal resistance, corrosion resistance and spalling resistance. Widely used in converters, EAFs, ladles and refining furnaces.
Magnesia Zirconia Brick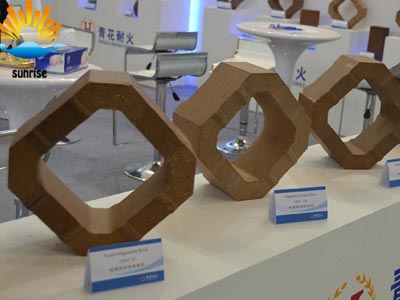 The product is composed of fused magnesia sand and zircon sand and it belongs to alkaline material. This product has high density of more than 3.08g/cm3. It also resists alkaline atmosphere erosion and alkaline slag erosion and widely used in glass furnace, regenerative chamber, cement kiln, steel-making electric furnace and non-ferrous metal metallurgy. Magnesia Zircon Brick is used for regenerator of glass furnace.
Basic refractories have strong resistance to basic slag and alkaline flux at high temperatures, but can react with the acidic slag, acid flux or acidic refractories. They are mainly used in basic steel furnaces, non-ferrous metal furnaces and cement kilns.
Send an Inquiry
E-mail : sales@sunriserefr.com
Phone : +86-371-63838939   /   Fax:+86-371-63835539
Company Address : No.36 Fengchan Road Of Zhengzhou, Henan, China (Mainland)

If you have any needs our help or are interested in our products, you can click online advisorychat with us online, or call our customer service telephone: 0086-0371-63838939. We will sincerely serve for you!
Product Category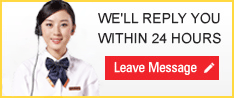 Venezuela customer AZS fused float glass furnace br...