Refractories Used In the Mixer Furnace
Date:
2016-08-15 17:35
From:
Zhengzhou Sunrise Refractory
Author:
sunrise
The mixer furnace is thermal equipment used to store molten iron maintain and homogenize the temperature and composition of molten iron in the steel plant, sometimes used to remove impurities in molten steel. it is usually fueled with coal gas and works at 1500-1550℃.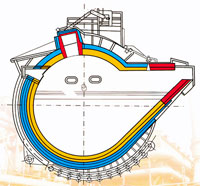 The lining thickness of the mixer furnace is 600-800mm. Close to the shell, 10-20mm asbestos, ceramic fiber blanket or calcium silicate board is laid. Then 113-230mm fire clay insulation bricks or Cenosphere bricks are laid. The working layer is usually built with fire clay bricks and high alumina bricks. The working lining of the basic mixer furnace is built with magnesia bricks. Other parts not in contact with hot molten iron are built with magnesia alumina bricks. High alumina bricks are also used in some parts. The working lining of acid mixer furnace is built with silica bricks.
The spherical end wall is generally stationary and forms a complete furnace with the cylindrical body. The end wall can also be made into the removable structure to facilitate maintenance. In general, gas burners are fixed in the upper part of the end wall and tapping hole. The burner bricks are made of high alumina materials and the service life is 1a. The cover lining working layer of the tapping hole needs regular maintenance and is built with fire clay bricks. When the working layer is built with refractory castables or plastic materials, the service life is greatly expanded. When tapping molten iron, slag plates are set in the tapping holes of the short cylindrical mixer furnace to avoid the leakage of molten slag. The slag plates are made of graphite or semi-graphite bricks or carbon castables.
The lining of the mixer furnace is subjected to the scouring of molten iron and the corrosion by molten slag, temperature changes and vibration, it is easy to be damaged, especially the slag line, tapping hole, the loading hole and the conjunctions.
Send an Inquiry
E-mail : sales@sunriserefr.com
Phone : +86-371-63838939   /   Fax:+86-371-63835539
Company Address : No.36 Fengchan Road Of Zhengzhou, Henan, China (Mainland)

If you have any needs our help or are interested in our products, you can click online advisorychat with us online, or call our customer service telephone: 0086-0371-63838939. We will sincerely serve for you!
Product Category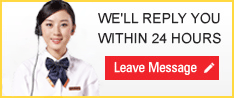 Venezuela customer AZS fused float glass furnace br...